Electric Cars in India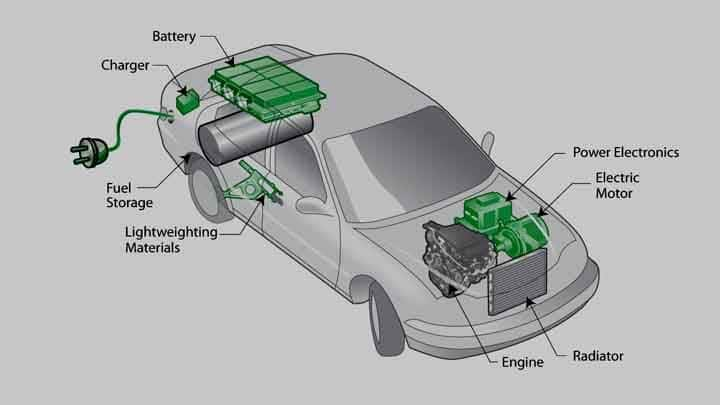 PM Modi stated that India remains firmly committed to move forward with goal of clean, modern mobility.
The transition of automobiles towards electric mobility is inevitable and it is for the auto industry to make the change and drive it to make India a global leader in electric vehicles (EVs), NITI Aayog CEO Amitabh Kant said.
So, what is it with the EVs that the government is keen to embrace it with ambitious targets on table?
Understanding EVs
EVs, in contrast to petrol and diesel vehicles, work on electric motors for propulsion instead of an internal combustion engine that produces power by burning a mix of fuel and gases. They have a rechargeable battery. The stored electric energy is then used to process electric motor.
 A plug-in electric vehicle (PEV) can be recharged from any external source of electricity. Plug-in Electric Vehicles can be grouped into 
 Plug-in Hybrid Electric vehicles, (PHEVs) (Electric Motor + Combustion Engine).
 Battery electric vehicles (BEVs)
Electric Cars- A Necessity not Luxury
Electric cars will place India among global leaders to act on its Paris Climate commitments in literal sense. Climate Risk Index 2020 puts India in a vulnerable position. So, electric cars do not go unnoticed in government's priority list. The more electric cars run on Indian roads, the more sustainable our energy demand turns out to be. The thinning of oil consumption will enrich our renewable and clean energy experience. The government import bills on crude oil will slump too. For consumers, electric cars are cost effective with less maintenance appetite. More so, electric cars are as charming and cozy as their fossil fuel run counterparts.
Electric cars in India- A road too bumpy!! 
With closed eyes anyone can guess, infrastructure has been the foremost matter in any technical initiative by the government of India. Charging stations are still to be developed at appropriate distances or in conjunction with fueling stations. Home charging has not kicked off effectively. Battery cell manufacturing is missing in India with reliance on imports from China, Japan, Korea and Europe. On the pollution front, the batteries emit toxic chemicals in air and charging stations do not eternally draw energy from renewable sources. Other observable barriers include- high GST rates, high manufacturing cost, and narrow market penetration of electric cars in India among others.
For the buyers, limited mileage of electric cars is a concern. Adding to it, is the nearly 8hours time taken for complete battery recharge of a typical electric car. Cost is also a prospective upsetting factor for buyers, which could act as a repellant. Standardization of electric cars is hindered by congestion on roads, lack of infrastructure and transit systems present in India.
Electric Cars market in India
India will have to wait for another decade to touch 30% car electrification. Given the infrastructure and market penetration constraints, India will meet about 8% electric car sales by 2030. A BloombergNEF report claims that by 2040 electric cars will outperform the sales of internal combustion engine ones covering a market share of 60%.
According to Fitch Solutions, the government initiatives for electric vehicles along with raised fuel prices will encourage faster adoption of EVs over 2020-2023, steering to an average annual growth rate of 26%. With Tesla's confirmation for entry into the Indian electric car manufacturing, the market could see a surge in sales.
Can you just pick and choose electric cars in India?
FY2020 saw Tata Nexon EV accounting for 64% of total electric car sales. The MG ZS EV positioned second best -selling electric car in India.
Battery Capacity – 30.2kWh
Distance per Charge – 312 km/full charge
Recharge Time – 0-80% charge in 60 minutes with a fast charger.
Price -Rs13.99 - 16.85 Lakh
Battery Capacity – 44.5kWh
Distance per Charge– 340km/full charge
Recharge Time – Fast charging in 50 minutes. The normal charge takes 6-8 hours.
Price- Rs20.99 - 24.58 Lakh
There are other players in the market as well - Hyundai Kona Electric (Rs23.79 - 23.97 Lakh), Mahindra E Verito (Rs 10.15 - 10.49 Lakh), Mercedes-Benz EQC (Rs1.06 Cr), Jaguar I-Pace (Rs1.05 - 1.12 Cr), Audi e-tron (Rs 99.99 Lakh - 1.17 Cr). Tata recently added Tigor EV to its portfolio. Likewise, Volkswagen will launch ID.4 EV priced at around Rs. 60lakh in India around 2022.
So, pick and choose option is not as captivating as for the fossil fueled cars. Moreover, the price bucket, except a few, is too heavy for an ordinary car seeking person to carry.
Interestingly, the country's leading carmaker, Maruti is not peeping into the EV zone. It wants to bring affordability to cars before announcing its arrival in the market. This obviously should be without incurring operational loss to the company. Maruti Suzuki is working on hybrid electric vehicles (HEV) in partnership with Toyota Motor Corporation. 
How far have other countries reached?
One in three vehicles registered in Norway is plug-in electric. UK and France have an ambitious target of 100% car electrification by 2040. China and the US cover over 50% of electric cars in the world. China's auto industry is swiftly turning all electric.
How enthusiastic is the government of India?
The government anticipates 6million electric and hybrid vehicles on road under the National Electric Mobility Mission Plan 2020. Faster Adoption and Manufacturing of (Hybrid &) Electric Vehicles (FAME India) schemes that supports and under some conditions directs adoption of EVs with the aim of attaining 30% EV market reach by 2030. It also focuses on charging infrastructure. One of the major steps by the government is reduction in GST for EVs from 12% to 5%. As an infrastructure push, charging of batteries is now labeled as a service. This will enable them to operate without licenses. Also, the Smart City initiative is likely to provide impetus to the advancement of EVs.
Conclusion
The Indian electric vehicle (EV) market at present has one of the bottommost penetration rates in the world. An all-encompassing effort is required to construct an entire EV ecosystem. Demand has to be pulled up by more research and development towards affordability, offering waiver on road tax, GST etc. Import substitution of batteries and other materials would be another driving force. Renewable energy avenues have to be further shaped to cater to mounting demand. Thus, a web of efforts is warranted to make electric cars truly successful in India.
Leave A Reply
Your email address will not be published. Required fields are marked *